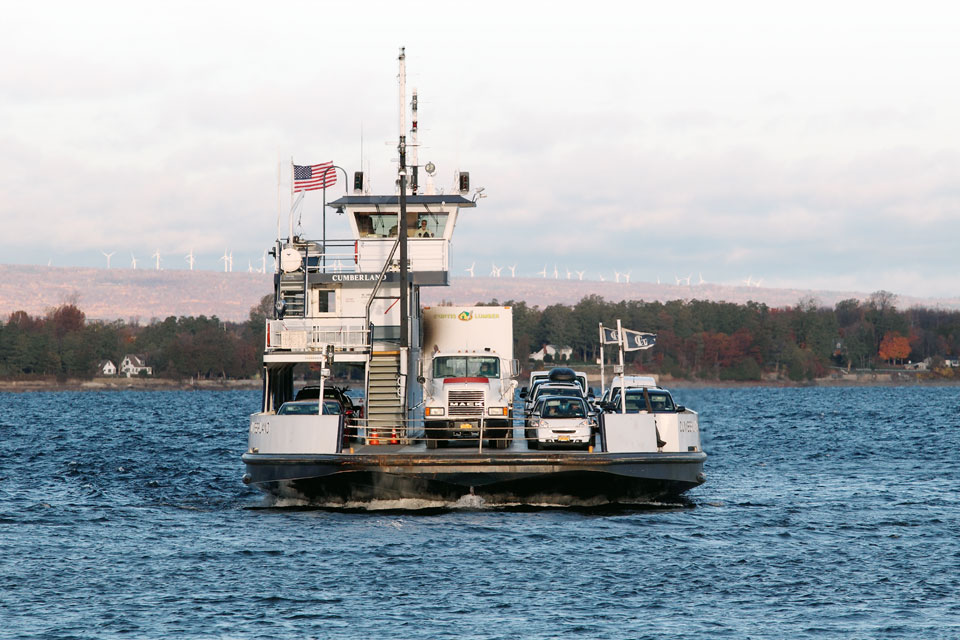 Departures From Vermont • Monday – Friday
Weekday Departures - From Grand Isle, VT to Plattsburgh, NY - Winter
AM DEPARTURES
12:25am
1:05am
1:45am
2:25am
3:05am
3:45am
4:25am
5:05am
5:25am
5:35am
5:48am
6:03am
6:15am
6:28am
6:43am
6:55am
7:08am
7:23am
7:35am
7:48am
8:03am
8:15am
8:28am
8:43am
8:55am
9:08am
9:23am
9:35am
9:48am
10:03am
10:15am
10:28am
10:43am
10:55am
11:08am
11:23am
11:35am
11:48am

PM DEPARTURES

12:03pm
12:15pm
12:28pm
12:43pm
12:55pm
1:08pm
1:23pm
1:35pm
1:48pm
2:03pm
2:15pm
2:28pm
2:43pm
2:55pm
3:08pm
3:23pm
3:35pm
3:48pm
4:03pm
4:15pm
4:28pm
4:43pm
4:55pm
5:08pm
5:23pm
5:35pm
5:48pm
6:03pm
6:15pm
6:28pm
6:45pm
7:08pm
7:23pm
7:35pm
7:48pm
8:05pm
8:25pm
8:45pm
9:05pm
9:25pm
9:45pm
10:05pm
10:45pm
11:05pm
11:45pm
Weekday Departures - From Grand Isle, VT to Plattsburgh, NY - Spring
AM DEPARTURES
12:25am
1:05am
1:45am
2:25am
3:05am
3:45am
4:25am
5:05am
5:23am
5:35am
5:48am
6:03am
6:15am
6:28am
6:43am
6:55am
7:08am
7:23am
7:35am
7:48am
8:03am
8:15am
8:28am
8:43am
8:55am
9:08am
9:23am
9:35am
9:48am
10:03am
10:15am
10:28am
10:43am
10:55am
11:08am
11:23am
11:35am
11:48am

PM DEPARTURES

12:03pm
12:15pm
12:28pm
12:43pm
12:55pm
1:08pm
1:23pm
1:35pm
1:48pm
2:03pm
2:15pm
2:28pm
2:43pm
2:55pm
3:08pm
3:23pm
3:35pm
3:48pm
4:03pm
4:15pm
4:28pm
4:43pm
4:55pm
5:08pm
5:23pm
5:35pm
5:48pm
6:03pm
6:15pm
6:28pm
6:43pm
6:55pm
7:08pm
7:23pm
7:35pm
7:48pm
8:05pm
8:25pm
8:45pm
9:05pm
9:25pm
10:05pm
10:45pm
11:05pm
11:45pm
Weekday Departures - From Grand Isle, VT to Plattsburgh, NY - Summer
AM DEPARTURES
12:25am
1:05am
1:45am
2:25am
3:05am
3:45am
4:25am
5:05am
5:25am
5:35am
5:48am
6:03am
6:15am
6:28am
6:43am
6:55am
7:08am
7:23am
7:35am
7:48am
8:03am
8:15am
8:28am
8:43am
8:55am
9:08am
9:23am
9:35am
9:48am
10:03am
10:15am
10:28am
10:43am
10:55am
11:08am
11:23am
11:35am
11:48am

PM DEPARTURES

12:03pm
12:15pm
12:28pm
12:43pm
12:55pm
1:08pm
1:23pm
1:35pm
1:48pm
2:03pm
2:15pm
2:28pm
2:43pm
2:55pm
3:08pm
3:23pm
3:35pm
3:48pm
4:03pm
4:15pm
4:28pm
4:43pm
4:55pm
5:08pm
5:23pm
5:35pm
5:48pm
6:03pm
6:15pm
6:28pm
6:43pm
6:55pm
7:08pm
7:23pm
7:35pm
7:48pm
8:03pm
8:15pm
8:28pm
8:45pm
9:05pm
9:25pm
9:45pm
10:05pm
10:25pm
10:45pm
11:05pm
11:45pm
Weekday Departures - From Grand Isle, VT to Plattsburgh, NY - Fall
AM DEPARTURES
12:25am
1:05am
1:45am
2:25am
3:05am
3:45am
4:25am
5:05am
5:23am
5:35am
5:48am
6:03am
6:15am
6:28am
6:43am
6:55am
7:08am
7:23am
7:35am
7:48am
8:03am
8:15am
8:28am
8:43am
8:55am
9:08am
9:23am
9:35am
9:48am
10:03am
10:15am
10:28am
10:43am
10:55am
11:08am
11:23am
11:35am
11:48am

PM DEPARTURES

12:03pm
12:15pm
12:28pm
12:43pm
12:55pm
1:08pm
1:23pm
1:35pm
1:48pm
2:03pm
2:15pm
2:28pm
2:43pm
2:55pm
3:08pm
3:23pm
3:35pm
3:48pm
4:03pm
4:15pm
4:28pm
4:43pm
4:55pm
5:08pm
5:23pm
5:35pm
5:48pm
6:03pm
6:15pm
6:28pm
6:43pm
6:55pm
7:08pm
7:23pm
7:35pm
7:48pm
8:05pm
8:25pm
8:45pm
9:05pm
9:25pm
9:45pm
10:05pm
10:45pm
11:05pm
11:45pm
Departures From Vermont • Saturday - Sunday
Weekend Departures - From Grand Isle, VT to Plattsburgh, NY - Winter
AM DEPARTURES
*There are no departures at these times due to scheduled maintenance on Sundays Only
12:25am
1:05am
1:45am
2:25am
3:05am
3:45am
4:25am
5:05am
*5:25am
5:45am
*6:05am
6:25am
6:45am
7:05am
7:25am
7:45am
8:05am
8:25am
8:45am
9:05am
9:25am
9:45am
10:05am
10:25am
10:45am
11:05am
11:25am
11:45am

PM DEPARTURES

12:05pm
12:25pm
12:45pm
1:05pm
1:25pm
1:45pm
2:05pm
2:25pm
2:45pm
3:05pm
3:25pm
3:45pm
4:05pm
4:25pm
4:45pm
5:05pm
5:25pm
5:45pm
6:05pm
6:25pm
6:45pm
7:05pm
7:25pm
7:45pm
8:05pm
8:25pm
8:45pm
9:05pm
9:25pm
9:45pm
10:05pm
10:45pm
11:05pm
11:45pm
Weekend Departures - From Grand Isle, VT to Plattsburgh, NY - Spring
AM DEPARTURES


There are no departures at these times on Sundays only due to scheduled maintenance
12:25am
1:05am
1:45am
2:25am
3:05am
3:45am
4:25am
5:05am
*5:25am
5:45am
*6:05am
6:25am
6:45am
7:05am
7:25am
7:45am
8:05am
8:25am
8:45am
8:55am
9:08am
9:23am
9:35am
9:48am
10:03am
10:15am
10:28am
10:43am
10:55am
11:08am
11:23am
11:35am
11:48am

PM DEPARTURES

12:03pm
12:15pm
12:28pm
12:43pm
12:55pm
1:08pm
1:23pm
1:35pm
1:48pm
2:03pm
2:15pm
2:28pm
2:43pm
2:55pm
3:08pm
3:23pm
3:35pm
3:48pm
4:03pm
4:15pm
4:28pm
4:43pm
4:55pm
5:08pm
5:23pm
5:35pm
5:48pm
6:03pm
6:15pm
6:28pm
6:43pm
6:55pm
7:08pm
7:23pm
7:35pm
7:45pm
8:05pm
8:25pm
8:45pm
9:05pm
9:25pm
9:45pm
10:05pm
10:45pm
11:05pm
11:45pm
Weekend Departures - From Grand Isle, VT to Plattsburgh, NY - Summer
AM DEPARTURES
12:25am
1:05am
1:45am
2:25am
3:05am
3:45am
4:25am
5:05am
5:45am
6:25am
6:45am
7:05am
7:25am
7:45am
8:05am
8:25am
8:45am
8:55am
9:08am
9:23am
9:35am
9:48am
10:03am
10:15am
10:28am
10:43am
10:55am
11:08am
11:23am
11:35am
11:48am

PM DEPARTURES

12:03pm
12:15pm
12:28pm
12:43pm
12:55pm
1:08pm
1:23pm
1:35pm
1:48pm
2:03pm
2:15pm
2:28pm
2:43pm
2:55pm
3:08pm
3:23pm
3:35pm
3:48pm
4:03pm
4:15pm
4:28pm
4:43pm
4:55pm
5:08pm
5:23pm
5:35pm
5:48pm
6:03pm
6:15pm
6:28pm
6:43pm
6:55pm
7:08pm
7:23pm
7:35pm
7:48pm
8:03pm
8:15pm
8:28pm
8:45pm
9:05pm
9:25pm
9:45pm
10:05pm
10:25pm
10:45pm
11:05pm
11:45pm
Weekend Departures - From Grand Isle, VT to Plattsburgh, NY - Fall
AM DEPARTURES
*There are no departures at these times due to scheduled maintenance on Sundays Only
12:25am
1:05am
1:45am
2:25am
3:05am
3:45am
4:25am
5:05am
*5:25am
5:45am
*6:05am
6:25am
6:45am
7:05am
7:25am
7:45am
8:05am
8:25am
8:45am
8:55am
9:08am
9:23am
9:35am
9:48am
10:03am
10:15am
10:28am
10:43am
10:55am
11:08am
11:23am
11:35am
11:48am

PM DEPARTURES

12:03pm
12:15pm
12:28pm
12:43pm
12:55pm
1:08pm
1:23pm
1:35pm
1:48pm
2:03pm
2:15pm
2:28pm
2:43pm
2:55pm
3:08pm
3:23pm
3:35pm
3:48pm
4:03pm
4:15pm
4:28pm
4:43pm
4:55pm
5:08pm
5:23pm
5:35pm
5:48pm
6:03pm
6:15pm
6:28pm
6:43pm
6:55pm
7:08pm
7:23pm
7:35pm
7:45pm
8:05pm
8:25pm
8:45pm
9:05pm
9:25pm
9:45pm
10:05pm
10:45pm
11:05pm
11:45pm
Departures From New York • Monday – Friday
Weekday Departures - From Plattsburgh, NY to Grand Isle, VT - Winter
AM DEPARTURES
12:05am
12:45am
1:25am
2:05am
2:45am
3:25am
4:05am
4:45am
5:25am
5:45am
5:55am
6:08am
6:23am
6:35am
6:48am
7:03am
7:15am
7:28am
7:43am
7:55am
8:08am
8:23am
8:35am
8:48am
9:03am
9:15am
9:28am
9:43am
9:55am
10:08am
10:23am
10:35am
10:48am
11:03am
11:15am
11:28am
11:43am
11:55am

PM DEPARTURES

12:08pm
12:23pm
12:35pm
12:48pm
1:05pm
1:25pm
1:45pm
2:05pm
2:25pm
2:45pm
3:05pm
3:25pm
3:45pm
4:05pm
4:25pm
4:45pm
5:05pm
5:25pm
5:45pm
6:05pm
6:25pm
6:45pm
7:05pm
7:25pm
7:45pm
8:05pm
8:25pm
8:45pm
9:05pm
9:25pm
9:45pm
10:05pm
10:25pm
11:05pm
11:25pm
Weekday Departures - From Plattsburgh, NY to Grand Isle, VT - Spring
AM DEPARTURES
12:05am
12:45am
1:25am
2:05am
2:45am
3:25am
4:05am
4:45am
5:25am
5:45am
5:55am
6:08am
6:23am
6:35am
6:48am
7:03am
7:15am
7:28am
7:43am
7:55am
8:08am
8:23am
8:35am
8:48am
9:03am
9:15am
9:28am
9:43am
9:55am
10:08am
10:23am
10:35am
10:48am
11:03am
11:15am
11:28am
11:43am
11:55am

PM DEPARTURES

12:08pm
12:23pm
12:35pm
12:48pm
1:03pm
1:15pm
1:28pm
1:43pm
1:55pm
2:08pm
2:23pm
2:35pm
2:48pm
3:03pm
3:15pm
3:28pm
3:43pm
3:55pm
4:08pm
4:23pm
4:35pm
4:48pm
5:03pm
5:15pm
5:28pm
5:43pm
5:55pm
6:08pm
6:23pm
6:35pm
6:48pm
7:03pm
7:15pm
7:28pm
7:43pm
7:55pm
8:05pm
8:25pm
8:45pm
9:05pm
9:25pm
9:45pm
10:25pm
11:05pm
11:25pm
Weekday Departures - From Plattsburgh, NY to Grand Isle, VT - Summer
AM DEPARTURES
12:05am
12:45am
1:25am
2:05am
2:45am
3:25am
4:05am
4:45am
5:25am
5:45am
5:55am
6:08am
6:23am
6:35am
6:48am
7:03am
7:15am
7:28am
7:43am
7:55am
8:08am
8:23am
8:35am
8:48am
9:03am
9:15am
9:28am
9:43am
9:55am
10:08am
10:23am
10:35am
10:48am
11:03am
11:15am
11:28am
11:43am
11:55am

PM DEPARTURES

12:08pm
12:23pm
12:35pm
12:48pm
1:03pm
1:15pm
1:28pm
1:43pm
1:55pm
2:08pm
2:23pm
2:35pm
2:48pm
3:03pm
3:15pm
3:28pm
3:43pm
3:55pm
4:08pm
4:23pm
4:35pm
4:48pm
5:03pm
5:15pm
5:28pm
5:43pm
5:55pm
6:08pm
6:23pm
6:35pm
6:48pm
7:03pm
7:15pm
7:28pm
7:43pm
7:55pm
8:08pm
8:23pm
8:35pm
8:45pm
9:05pm
9:25pm
9:45pm
10:05pm
10:25pm
10:45pm
11:05pm
11:25pm
Weekday Departures - From Plattsburgh, NY to Grand Isle, VT - Fall
AM DEPARTURES
12:05am
12:45am
1:25am
2:05am
2:45am
3:25am
4:05am
4:45am
5:25am
5:45am
5:55am
6:08am
6:23am
6:35am
6:48am
7:03am
7:15am
7:28am
7:43am
7:55am
8:08am
8:23am
8:35am
8:48am
9:03am
9:15am
9:28am
9:43am
9:55am
10:08am
10:23am
10:35am
10:48am
11:03am
11:15am
11:28am
11:43am
11:55am

PM DEPARTURES

12:08pm
12:23pm
12:35pm
12:48pm
1:03pm
1:15pm
1:28pm
1:43pm
1:55pm
2:08pm
2:23pm
2:35pm
2:48pm
3:03pm
3:15pm
3:28pm
3:43pm
3:55pm
4:08pm
4:23pm
4:35pm
4:48pm
5:03pm
5:15pm
5:28pm
5:43pm
5:55pm
6:08pm
6:23pm
6:35pm
6:48pm
7:03pm
7:15pm
7:28pm
7:43pm
7:55pm
8:05pm
8:25pm
845pm
9:05pm
9:25pm
9:45pm
10:05pm
10:25pm
11:05pm
11:25pm
Departures From New York • Saturday - Sunday
Weekend Departures - From Plattburgh, NY to Grand Isle, VT - Winter
AM DEPARTURES
*There are no departures at these times due to scheduled maintenance on Sundays Only
12:05am
12:45am
1:25am
2:05am
2:45am
3:25am
4:05am
4:45am
5:25am
*5:45am
6:05am
*6:25am
6:45am
7:05am
7:25am
7:45am
8:05am
8:25am
8:45am
9:05am
9:25am
9:45am
10:05am
10:25am
10:45am
11:05am
11:25am
11:45am

PM DEPARTURES

12:05pm
12:25pm
12:45pm
1:05pm
1:25pm
1:45pm
2:05pm
2:25pm
2:45pm
3:05pm
3:25pm
3:45pm
4:05pm
4:25pm
4:45pm
5:05pm
5:25pm
5:45pm
6:05pm
6:25pm
6:45pm
7:05pm
7:25pm
7:45pm
8:05pm
8:25pm
8:45pm
9:05pm
9:25pm
9:45pm
10:05pm
10:45pm
11:05pm
11:25pm
Weekend Departures - From Plattburgh, NY to Grand Isle, VT - Spring
AM DEPARTURES


There are no departures at these times on Sundays only due to scheduled maintenance
12:05am
12:45am
1:25am
2:05am
2:45am
3:25am
4:05am
4:45am
5:25am
*5:45am
6:05am
*6:25am
6:45am
7:05am
7:25am
7:45am
8:05am
8:25am
8:45am
9:03am
9:15am
9:28am
9:43am
9:55am
10:08am
10:23am
10:35am
10:48am
11:03am
11:15am
11:28am
11:43am
11:55am

PM DEPARTURES

12:23pm
12:35pm
12:48pm
1:03pm
1:15pm
1:28pm
1:43pm
1:55pm
2:08pm
2:23pm
2:35pm
2:48pm
3:03pm
3:15pm
3:28pm
3:43pm
3:55pm
4:08pm
4:23pm
4:35pm
4:48pm
5:03pm
5:15pm
5:28pm
5:43pm
5:55pm
6:08pm
6:23pm
6:35pm
6:48pm
7:03pm
7:15pm
7:28pm
7:43pm
7:55pm
8:05pm
8:25pm
8:45pm
9:05pm
9:25pm
9:45pm
10:05pm
10:25pm
11:05pm
11:25pm
Weekend Departures - From Plattburgh, NY to Grand Isle, VT - Summer
AM DEPARTURES
12:05am
12:45am
1:25am
2:05am
2:45am
3:25am
4:05am
4:45am
5:25am
6:05am
6:45am
7:05am
7:25am
7:45am
8:05am
8:25am
8:45am
9:03am
9:15am
9:28am
9:43am
9:55am
10:08am
10:23am
10:35am
10:48am
11:03am
11:15am
11:28am
11:43am
11:55am

PM DEPARTURES

12:08pm
12:23pm
12:35pm
12:48pm
1:03pm
1:15pm
1:28pm
1:43pm
1:55pm
2:08pm
2:23pm
2:35pm
2:48pm
3:03pm
3:15pm
3:28pm
3:43pm
3:55pm
4:08pm
4:23pm
4:35pm
4:48pm
5:03pm
5:15pm
5:28pm
5:43pm
5:55pm
6:08pm
6:23pm
6:35pm
6:48pm
7:03pm
7:15pm
7:28pm
7:43pm
7:55pm
8:08pm
8:23pm
8:35pm
8:45pm
9:05pm
9:25pm
9:45pm
10:05pm
10:25pm
10:45pm
11:05pm
11:25pm
Weekend Departures - From Plattburgh, NY to Grand Isle, VT - Fall
AM DEPARTURES
*There are no departures at these times due to scheduled maintenance on Sundays Only
12:05am
12:45am
1:25am
2:05am
2:45am
3:25am
4:05am
4:45am
5:25am
*5:45am
6:05am
*6:25am
6:45am
7:05am
7:25am
7:45am
8:05am
8:25am
8:45am
9:03am
9:15am
9:28am
9:43am
9:55am
10:08am
10:23am
10:35am
10:48am
11:03am
11:15am
11:28am
11:43am
11:55am

PM DEPARTURES

12:08pm
12:23pm
12:35pm
12:48pm
1:03pm
1:15pm
1:28pm
1:43pm
1:55pm
2:08pm
2:23pm
2:35pm
2:48pm
3:03pm
3:15pm
3:28pm
3:43pm
3:55pm
4:08pm
4:23pm
4:35pm
4:48pm
5:03pm
5:15pm
5:28pm
5:43pm
5:55pm
6:08pm
6:23pm
6:35pm
6:48pm
7:03pm
7:15pm
7:28pm
7:43pm
7:55pm
8:05pm
8:25pm
8:45pm
9:05pm
9:25pm
9:45pm
10:05pm
10:25pm
11:05pm
11:25pm
View Route Schedules by Season
Click below to view seasonal schedules for the Grand Isle, VT / Plattsburgh, NY Crossing
Spring Season: April 3rd – June 14th
Weekday Departures - From Grand Isle, VT to Plattsburgh, NY - Spring
AM DEPARTURES
12:25am
1:05am
1:45am
2:25am
3:05am
3:45am
4:25am
5:05am
5:23am
5:35am
5:48am
6:03am
6:15am
6:28am
6:43am
6:55am
7:08am
7:23am
7:35am
7:48am
8:03am
8:15am
8:28am
8:43am
8:55am
9:08am
9:23am
9:35am
9:48am
10:03am
10:15am
10:28am
10:43am
10:55am
11:08am
11:23am
11:35am
11:48am

PM DEPARTURES

12:03pm
12:15pm
12:28pm
12:43pm
12:55pm
1:08pm
1:23pm
1:35pm
1:48pm
2:03pm
2:15pm
2:28pm
2:43pm
2:55pm
3:08pm
3:23pm
3:35pm
3:48pm
4:03pm
4:15pm
4:28pm
4:43pm
4:55pm
5:08pm
5:23pm
5:35pm
5:48pm
6:03pm
6:15pm
6:28pm
6:43pm
6:55pm
7:08pm
7:23pm
7:35pm
7:48pm
8:05pm
8:25pm
8:45pm
9:05pm
9:25pm
10:05pm
10:45pm
11:05pm
11:45pm
Weekday Departures - From Plattsburgh, NY to Grand Isle, VT - Spring
AM DEPARTURES
12:05am
12:45am
1:25am
2:05am
2:45am
3:25am
4:05am
4:45am
5:25am
5:45am
5:55am
6:08am
6:23am
6:35am
6:48am
7:03am
7:15am
7:28am
7:43am
7:55am
8:08am
8:23am
8:35am
8:48am
9:03am
9:15am
9:28am
9:43am
9:55am
10:08am
10:23am
10:35am
10:48am
11:03am
11:15am
11:28am
11:43am
11:55am

PM DEPARTURES

12:08pm
12:23pm
12:35pm
12:48pm
1:03pm
1:15pm
1:28pm
1:43pm
1:55pm
2:08pm
2:23pm
2:35pm
2:48pm
3:03pm
3:15pm
3:28pm
3:43pm
3:55pm
4:08pm
4:23pm
4:35pm
4:48pm
5:03pm
5:15pm
5:28pm
5:43pm
5:55pm
6:08pm
6:23pm
6:35pm
6:48pm
7:03pm
7:15pm
7:28pm
7:43pm
7:55pm
8:05pm
8:25pm
8:45pm
9:05pm
9:25pm
9:45pm
10:25pm
11:05pm
11:25pm
Weekend Departures - From Grand Isle, VT to Plattsburgh, NY - Spring
AM DEPARTURES


There are no departures at these times on Sundays only due to scheduled maintenance
12:25am
1:05am
1:45am
2:25am
3:05am
3:45am
4:25am
5:05am
*5:25am
5:45am
*6:05am
6:25am
6:45am
7:05am
7:25am
7:45am
8:05am
8:25am
8:45am
8:55am
9:08am
9:23am
9:35am
9:48am
10:03am
10:15am
10:28am
10:43am
10:55am
11:08am
11:23am
11:35am
11:48am

PM DEPARTURES

12:03pm
12:15pm
12:28pm
12:43pm
12:55pm
1:08pm
1:23pm
1:35pm
1:48pm
2:03pm
2:15pm
2:28pm
2:43pm
2:55pm
3:08pm
3:23pm
3:35pm
3:48pm
4:03pm
4:15pm
4:28pm
4:43pm
4:55pm
5:08pm
5:23pm
5:35pm
5:48pm
6:03pm
6:15pm
6:28pm
6:43pm
6:55pm
7:08pm
7:23pm
7:35pm
7:45pm
8:05pm
8:25pm
8:45pm
9:05pm
9:25pm
9:45pm
10:05pm
10:45pm
11:05pm
11:45pm
Weekend Departures - From Plattburgh, NY to Grand Isle, VT - Spring
AM DEPARTURES


There are no departures at these times on Sundays only due to scheduled maintenance
12:05am
12:45am
1:25am
2:05am
2:45am
3:25am
4:05am
4:45am
5:25am
*5:45am
6:05am
*6:25am
6:45am
7:05am
7:25am
7:45am
8:05am
8:25am
8:45am
9:03am
9:15am
9:28am
9:43am
9:55am
10:08am
10:23am
10:35am
10:48am
11:03am
11:15am
11:28am
11:43am
11:55am

PM DEPARTURES

12:23pm
12:35pm
12:48pm
1:03pm
1:15pm
1:28pm
1:43pm
1:55pm
2:08pm
2:23pm
2:35pm
2:48pm
3:03pm
3:15pm
3:28pm
3:43pm
3:55pm
4:08pm
4:23pm
4:35pm
4:48pm
5:03pm
5:15pm
5:28pm
5:43pm
5:55pm
6:08pm
6:23pm
6:35pm
6:48pm
7:03pm
7:15pm
7:28pm
7:43pm
7:55pm
8:05pm
8:25pm
8:45pm
9:05pm
9:25pm
9:45pm
10:05pm
10:25pm
11:05pm
11:25pm
Summer Season: June 15th-September 4th
Weekday Departures - From Grand Isle, VT to Plattsburgh, NY - Summer
AM DEPARTURES
12:25am
1:05am
1:45am
2:25am
3:05am
3:45am
4:25am
5:05am
5:25am
5:35am
5:48am
6:03am
6:15am
6:28am
6:43am
6:55am
7:08am
7:23am
7:35am
7:48am
8:03am
8:15am
8:28am
8:43am
8:55am
9:08am
9:23am
9:35am
9:48am
10:03am
10:15am
10:28am
10:43am
10:55am
11:08am
11:23am
11:35am
11:48am

PM DEPARTURES

12:03pm
12:15pm
12:28pm
12:43pm
12:55pm
1:08pm
1:23pm
1:35pm
1:48pm
2:03pm
2:15pm
2:28pm
2:43pm
2:55pm
3:08pm
3:23pm
3:35pm
3:48pm
4:03pm
4:15pm
4:28pm
4:43pm
4:55pm
5:08pm
5:23pm
5:35pm
5:48pm
6:03pm
6:15pm
6:28pm
6:43pm
6:55pm
7:08pm
7:23pm
7:35pm
7:48pm
8:03pm
8:15pm
8:28pm
8:45pm
9:05pm
9:25pm
9:45pm
10:05pm
10:25pm
10:45pm
11:05pm
11:45pm
Weekday Departures - From Plattsburgh, NY to Grand Isle, VT - Summer
AM DEPARTURES
12:05am
12:45am
1:25am
2:05am
2:45am
3:25am
4:05am
4:45am
5:25am
5:45am
5:55am
6:08am
6:23am
6:35am
6:48am
7:03am
7:15am
7:28am
7:43am
7:55am
8:08am
8:23am
8:35am
8:48am
9:03am
9:15am
9:28am
9:43am
9:55am
10:08am
10:23am
10:35am
10:48am
11:03am
11:15am
11:28am
11:43am
11:55am

PM DEPARTURES

12:08pm
12:23pm
12:35pm
12:48pm
1:03pm
1:15pm
1:28pm
1:43pm
1:55pm
2:08pm
2:23pm
2:35pm
2:48pm
3:03pm
3:15pm
3:28pm
3:43pm
3:55pm
4:08pm
4:23pm
4:35pm
4:48pm
5:03pm
5:15pm
5:28pm
5:43pm
5:55pm
6:08pm
6:23pm
6:35pm
6:48pm
7:03pm
7:15pm
7:28pm
7:43pm
7:55pm
8:08pm
8:23pm
8:35pm
8:45pm
9:05pm
9:25pm
9:45pm
10:05pm
10:25pm
10:45pm
11:05pm
11:25pm
Weekend Departures - From Grand Isle, VT to Plattsburgh, NY - Summer
AM DEPARTURES
12:25am
1:05am
1:45am
2:25am
3:05am
3:45am
4:25am
5:05am
5:45am
6:25am
6:45am
7:05am
7:25am
7:45am
8:05am
8:25am
8:45am
8:55am
9:08am
9:23am
9:35am
9:48am
10:03am
10:15am
10:28am
10:43am
10:55am
11:08am
11:23am
11:35am
11:48am

PM DEPARTURES

12:03pm
12:15pm
12:28pm
12:43pm
12:55pm
1:08pm
1:23pm
1:35pm
1:48pm
2:03pm
2:15pm
2:28pm
2:43pm
2:55pm
3:08pm
3:23pm
3:35pm
3:48pm
4:03pm
4:15pm
4:28pm
4:43pm
4:55pm
5:08pm
5:23pm
5:35pm
5:48pm
6:03pm
6:15pm
6:28pm
6:43pm
6:55pm
7:08pm
7:23pm
7:35pm
7:48pm
8:03pm
8:15pm
8:28pm
8:45pm
9:05pm
9:25pm
9:45pm
10:05pm
10:25pm
10:45pm
11:05pm
11:45pm
Weekend Departures - From Plattburgh, NY to Grand Isle, VT - Summer
AM DEPARTURES
12:05am
12:45am
1:25am
2:05am
2:45am
3:25am
4:05am
4:45am
5:25am
6:05am
6:45am
7:05am
7:25am
7:45am
8:05am
8:25am
8:45am
9:03am
9:15am
9:28am
9:43am
9:55am
10:08am
10:23am
10:35am
10:48am
11:03am
11:15am
11:28am
11:43am
11:55am

PM DEPARTURES

12:08pm
12:23pm
12:35pm
12:48pm
1:03pm
1:15pm
1:28pm
1:43pm
1:55pm
2:08pm
2:23pm
2:35pm
2:48pm
3:03pm
3:15pm
3:28pm
3:43pm
3:55pm
4:08pm
4:23pm
4:35pm
4:48pm
5:03pm
5:15pm
5:28pm
5:43pm
5:55pm
6:08pm
6:23pm
6:35pm
6:48pm
7:03pm
7:15pm
7:28pm
7:43pm
7:55pm
8:08pm
8:23pm
8:35pm
8:45pm
9:05pm
9:25pm
9:45pm
10:05pm
10:25pm
10:45pm
11:05pm
11:25pm
Fall Season: September 5th – December 31st
Weekday Departures - From Grand Isle, VT to Plattsburgh, NY - Fall
AM DEPARTURES
12:25am
1:05am
1:45am
2:25am
3:05am
3:45am
4:25am
5:05am
5:23am
5:35am
5:48am
6:03am
6:15am
6:28am
6:43am
6:55am
7:08am
7:23am
7:35am
7:48am
8:03am
8:15am
8:28am
8:43am
8:55am
9:08am
9:23am
9:35am
9:48am
10:03am
10:15am
10:28am
10:43am
10:55am
11:08am
11:23am
11:35am
11:48am

PM DEPARTURES

12:03pm
12:15pm
12:28pm
12:43pm
12:55pm
1:08pm
1:23pm
1:35pm
1:48pm
2:03pm
2:15pm
2:28pm
2:43pm
2:55pm
3:08pm
3:23pm
3:35pm
3:48pm
4:03pm
4:15pm
4:28pm
4:43pm
4:55pm
5:08pm
5:23pm
5:35pm
5:48pm
6:03pm
6:15pm
6:28pm
6:43pm
6:55pm
7:08pm
7:23pm
7:35pm
7:48pm
8:05pm
8:25pm
8:45pm
9:05pm
9:25pm
9:45pm
10:05pm
10:45pm
11:05pm
11:45pm
Weekday Departures - From Plattsburgh, NY to Grand Isle, VT - Fall
AM DEPARTURES
12:05am
12:45am
1:25am
2:05am
2:45am
3:25am
4:05am
4:45am
5:25am
5:45am
5:55am
6:08am
6:23am
6:35am
6:48am
7:03am
7:15am
7:28am
7:43am
7:55am
8:08am
8:23am
8:35am
8:48am
9:03am
9:15am
9:28am
9:43am
9:55am
10:08am
10:23am
10:35am
10:48am
11:03am
11:15am
11:28am
11:43am
11:55am

PM DEPARTURES

12:08pm
12:23pm
12:35pm
12:48pm
1:03pm
1:15pm
1:28pm
1:43pm
1:55pm
2:08pm
2:23pm
2:35pm
2:48pm
3:03pm
3:15pm
3:28pm
3:43pm
3:55pm
4:08pm
4:23pm
4:35pm
4:48pm
5:03pm
5:15pm
5:28pm
5:43pm
5:55pm
6:08pm
6:23pm
6:35pm
6:48pm
7:03pm
7:15pm
7:28pm
7:43pm
7:55pm
8:05pm
8:25pm
845pm
9:05pm
9:25pm
9:45pm
10:05pm
10:25pm
11:05pm
11:25pm
Weekend Departures - From Grand Isle, VT to Plattsburgh, NY - Fall
AM DEPARTURES
*There are no departures at these times due to scheduled maintenance on Sundays Only
12:25am
1:05am
1:45am
2:25am
3:05am
3:45am
4:25am
5:05am
*5:25am
5:45am
*6:05am
6:25am
6:45am
7:05am
7:25am
7:45am
8:05am
8:25am
8:45am
8:55am
9:08am
9:23am
9:35am
9:48am
10:03am
10:15am
10:28am
10:43am
10:55am
11:08am
11:23am
11:35am
11:48am

PM DEPARTURES

12:03pm
12:15pm
12:28pm
12:43pm
12:55pm
1:08pm
1:23pm
1:35pm
1:48pm
2:03pm
2:15pm
2:28pm
2:43pm
2:55pm
3:08pm
3:23pm
3:35pm
3:48pm
4:03pm
4:15pm
4:28pm
4:43pm
4:55pm
5:08pm
5:23pm
5:35pm
5:48pm
6:03pm
6:15pm
6:28pm
6:43pm
6:55pm
7:08pm
7:23pm
7:35pm
7:45pm
8:05pm
8:25pm
8:45pm
9:05pm
9:25pm
9:45pm
10:05pm
10:45pm
11:05pm
11:45pm
Weekend Departures - From Plattburgh, NY to Grand Isle, VT - Fall
AM DEPARTURES
*There are no departures at these times due to scheduled maintenance on Sundays Only
12:05am
12:45am
1:25am
2:05am
2:45am
3:25am
4:05am
4:45am
5:25am
*5:45am
6:05am
*6:25am
6:45am
7:05am
7:25am
7:45am
8:05am
8:25am
8:45am
9:03am
9:15am
9:28am
9:43am
9:55am
10:08am
10:23am
10:35am
10:48am
11:03am
11:15am
11:28am
11:43am
11:55am

PM DEPARTURES

12:08pm
12:23pm
12:35pm
12:48pm
1:03pm
1:15pm
1:28pm
1:43pm
1:55pm
2:08pm
2:23pm
2:35pm
2:48pm
3:03pm
3:15pm
3:28pm
3:43pm
3:55pm
4:08pm
4:23pm
4:35pm
4:48pm
5:03pm
5:15pm
5:28pm
5:43pm
5:55pm
6:08pm
6:23pm
6:35pm
6:48pm
7:03pm
7:15pm
7:28pm
7:43pm
7:55pm
8:05pm
8:25pm
8:45pm
9:05pm
9:25pm
9:45pm
10:05pm
10:25pm
11:05pm
11:25pm
Winter Season: January 2nd – April 2nd
Weekday Departures - From Grand Isle, VT to Plattsburgh, NY - Winter
AM DEPARTURES
12:25am
1:05am
1:45am
2:25am
3:05am
3:45am
4:25am
5:05am
5:25am
5:35am
5:48am
6:03am
6:15am
6:28am
6:43am
6:55am
7:08am
7:23am
7:35am
7:48am
8:03am
8:15am
8:28am
8:43am
8:55am
9:08am
9:23am
9:35am
9:48am
10:03am
10:15am
10:28am
10:43am
10:55am
11:08am
11:23am
11:35am
11:48am

PM DEPARTURES

12:03pm
12:15pm
12:28pm
12:43pm
12:55pm
1:08pm
1:23pm
1:35pm
1:48pm
2:03pm
2:15pm
2:28pm
2:43pm
2:55pm
3:08pm
3:23pm
3:35pm
3:48pm
4:03pm
4:15pm
4:28pm
4:43pm
4:55pm
5:08pm
5:23pm
5:35pm
5:48pm
6:03pm
6:15pm
6:28pm
6:45pm
7:08pm
7:23pm
7:35pm
7:48pm
8:05pm
8:25pm
8:45pm
9:05pm
9:25pm
9:45pm
10:05pm
10:45pm
11:05pm
11:45pm
Weekday Departures - From Plattsburgh, NY to Grand Isle, VT - Winter
AM DEPARTURES
12:05am
12:45am
1:25am
2:05am
2:45am
3:25am
4:05am
4:45am
5:25am
5:45am
5:55am
6:08am
6:23am
6:35am
6:48am
7:03am
7:15am
7:28am
7:43am
7:55am
8:08am
8:23am
8:35am
8:48am
9:03am
9:15am
9:28am
9:43am
9:55am
10:08am
10:23am
10:35am
10:48am
11:03am
11:15am
11:28am
11:43am
11:55am

PM DEPARTURES

12:08pm
12:23pm
12:35pm
12:48pm
1:05pm
1:25pm
1:45pm
2:05pm
2:25pm
2:45pm
3:05pm
3:25pm
3:45pm
4:05pm
4:25pm
4:45pm
5:05pm
5:25pm
5:45pm
6:05pm
6:25pm
6:45pm
7:05pm
7:25pm
7:45pm
8:05pm
8:25pm
8:45pm
9:05pm
9:25pm
9:45pm
10:05pm
10:25pm
11:05pm
11:25pm
Weekend Departures - From Grand Isle, VT to Plattsburgh, NY - Winter
AM DEPARTURES
*There are no departures at these times due to scheduled maintenance on Sundays Only
12:25am
1:05am
1:45am
2:25am
3:05am
3:45am
4:25am
5:05am
*5:25am
5:45am
*6:05am
6:25am
6:45am
7:05am
7:25am
7:45am
8:05am
8:25am
8:45am
9:05am
9:25am
9:45am
10:05am
10:25am
10:45am
11:05am
11:25am
11:45am

PM DEPARTURES

12:05pm
12:25pm
12:45pm
1:05pm
1:25pm
1:45pm
2:05pm
2:25pm
2:45pm
3:05pm
3:25pm
3:45pm
4:05pm
4:25pm
4:45pm
5:05pm
5:25pm
5:45pm
6:05pm
6:25pm
6:45pm
7:05pm
7:25pm
7:45pm
8:05pm
8:25pm
8:45pm
9:05pm
9:25pm
9:45pm
10:05pm
10:45pm
11:05pm
11:45pm
Weekend Departures - From Plattburgh, NY to Grand Isle, VT - Winter
AM DEPARTURES
*There are no departures at these times due to scheduled maintenance on Sundays Only
12:05am
12:45am
1:25am
2:05am
2:45am
3:25am
4:05am
4:45am
5:25am
*5:45am
6:05am
*6:25am
6:45am
7:05am
7:25am
7:45am
8:05am
8:25am
8:45am
9:05am
9:25am
9:45am
10:05am
10:25am
10:45am
11:05am
11:25am
11:45am

PM DEPARTURES

12:05pm
12:25pm
12:45pm
1:05pm
1:25pm
1:45pm
2:05pm
2:25pm
2:45pm
3:05pm
3:25pm
3:45pm
4:05pm
4:25pm
4:45pm
5:05pm
5:25pm
5:45pm
6:05pm
6:25pm
6:45pm
7:05pm
7:25pm
7:45pm
8:05pm
8:25pm
8:45pm
9:05pm
9:25pm
9:45pm
10:05pm
10:45pm
11:05pm
11:25pm
Notes:
PLEASE NOTE: Our ferries require cash fares.

The Grand Isle, VT – Plattsburgh, NY ferry crossing is our Northern crossing, running 24 hours, 7 days a week, year round. Crossing time is approximately 14 minutes; 2 miles across.
Departure times may vary due to wind conditions, maintenance or traffic.
Rates are subject to change without notice.