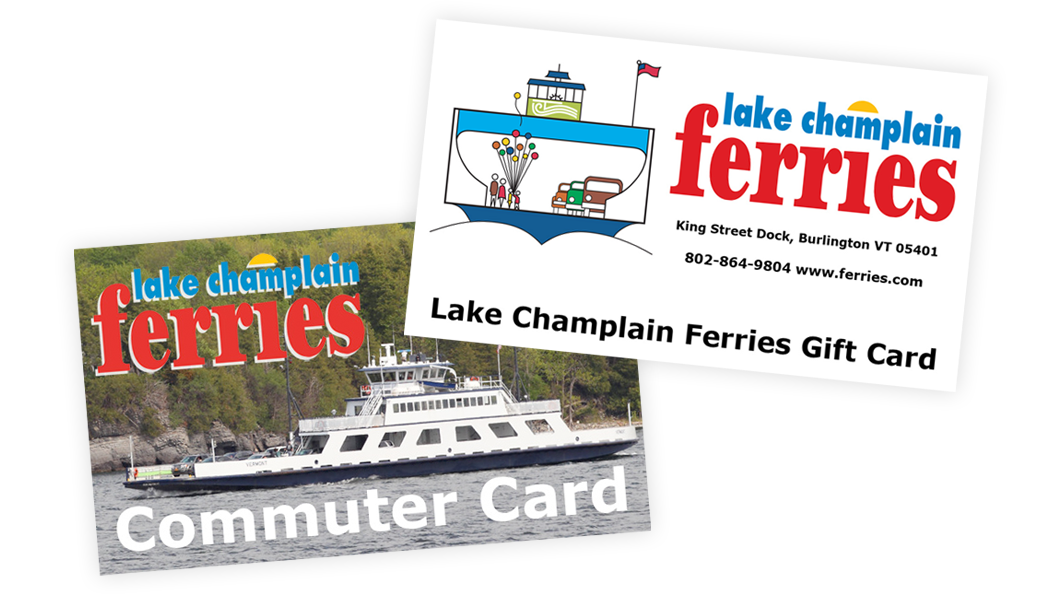 Using an LCT Ferries Commuter Card, you save 30% each time you cross!
To apply for a Lake Champlain Transportation Commuter Card, download the commuter card application here. Please bring the application to one of our ticket booths or submit it to the Burlington office in person, via fax at (802) 864-6830, or by email at orders@ferries.com.
NOTE: there is a $200 minimum recharge amount as of May 2013. Commuter Cards are not accepted at our Charlotte, VT/Essex, NY crossing from December to April, nor at our Burlington, VT/Port Kent, NY crossing at any time.
You may recharge your card at the Grand Isle, VT / Cumberland Head, NY crossing booth or the Charlotte, VT / Essex, NY booth (April to December only). You may also provide payment at the Burlington office in person, or by phone with a credit card. Note that it takes up to 24 business hours to process recharges from the Burlington office. Please see the full Conditions of Sale and Use below. For more information view our Commuter Card Terms of Service.
Commuter Coupons
Books of commuter coupons are available for purchase for most fares, and contain 20 one-way coupons. When using the coupons for the fare intended, a 30% discount is reflected. If being used for a fare other than it was sold for, it is applied at the face value/purchase price of the coupon.
BURLINGTON/PORT KENT CROSSING: Due to the difference in rates at the Burlington, VT / Port Kent, NY crossing, coupons purchased for other crossings may not be used here. Burlington crossing commuter books may be purchased at our main office for car and driver fares, adult passenger fares, and/or child passenger fares.
Gift Cards
Gift cards may be purchased at the booth in any denomination. You may also call our office to place an order: (802) 864-9804. Note that the gift card will need to be picked up at the Burlington office or mailed to you.